Fire/Rescue/EMR
---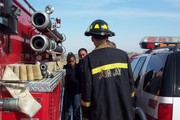 Students are exposed to simulated fire conditions under a safe environment.
---
Course Description
The Fire/Rescue/EMS program is designed to expose students to fire and emergency medical response practices and procedures, as well as provide them with necessary skills so they are prepared for entry level positions in these fields.
This 2-year curriculum is split between Schedule A and Schedule B and will alter annually as follows:
Schedule A (Even graduating years ie.: Graduating Class of 2016): This year of the curriculum involves obtaining a brief, general overview of fire department operations. Subject areas include: Fire Service as a Career, Roles of Fire Service Personnel, Fire and Emergency Services, Firefighter Safety, Traditions and History, Fire Prevention, Fire Investigation, Scientific Terminology, Building Construction, Fire Detection, Alarm and Suppression Systems, and Fire Department Organization and Management. Successful completion of the first nine weeks will allows students an opportunity to earn 3 college credit hours at Prairie State College.
During the remainder of the year, students study emergency medical response. Students will develop and demonstrate the practical skills associated with emergency procedures such as bandaging, splinting, CPR, and auto extrication. Some of the topics during this portion of the class include: EMS Systems, Personnel Safety, Medical, Legal, and Ethical Issues, The Human Body, Airway Management, Patient Assessment, Patient Handling, Medical Emergencies, and Communications and Documentation. Successful completion of this portion of the class will result in certification as an Emergency Medical Responder through the Illinois Department of Public Health as well as 3 college credit hours. In addition, students will be able to obtain American Heart Association Healthcare Provider CPR/AED and First Aid cards.
Schedule B (Odd graduating years i.e. Graduating Class of 2017): During the alternate year of this program, students follow the Office of the Illinois State Fire Marshal's Division of Personnel Standards Education objectives for Basic Firefighter. This includes classroom instruction as well as extensive hands-on training sessions involving: ropes and knots, fire hose, ladders, self-contained breathing apparatus, and EMS. At the conclusion of this class, students will experience simulated fire conditions in a non-toxic smoke trailer. Students will be certified by the American Heart Association in Basic Life Support CPR/AED and First Aid. Students who are thinking about enrolling need to be aware – certain aspects of the curriculum can be physically demanding.
DUAL CREDIT OPPORTUNITY:
Following successful completion of A Schedule year, students may have an opportunity to earn 3 dual credit hours at Prairie State College for FST101: Intro to Fire Technology and 3 dual credit hours at Prairie State College for FRESP 101: First Responder.
CERTIFICATION:
Illinois Department of Public Health Emergency Medical Responder License
American Heart Association Health Care Provider CPR/AED Certification
REQUIRED/RECOMMENDED TOOLS AND SUPPLIES:
Pen and #2 Pencil
Notebook paper and 3-ring binder
ADDITIONAL COSTS:
KACC Fire/Rescue Uniform T-Shirt (Optional) $10-$20
Certification Fees are included in the class fee
Course Contents
| | | |
| --- | --- | --- |
| Fire & Emergency Service As a Career | Roles of Fire & Emergency Services Personnel | Early Traditions & History |
| Fire Investigation | Fire Behavior | Fire Prevention |
| Public fire & Life Safety Education | Fire Detection, Alarm & Suppression Systems | Fire Department Organization & Management |
| Building Construction | Apparatus & Equipment | Ropes & Knots |
| Self-Contained Breathing Apparatus | Incident Management Systems | Radio Communications |
| Fire Hose | Ladders | Ventilation |
| Medical, Legal & Ethical Issues | Bleeding, Shock & Soft Tissue Injuries | Injuries to Muscles and Bones |
| Medical emergencies | Environmental Emergencies | Pediatric Emergencies |
| Lifting & Moving Patients | Poisoning & Substance Abuse | Vehicle Extrication & Special Rescue |
| Childbirth | Patient Assessment | Airway Management |
| Geriatric Emergencies | Behavioral Emergencies | The Human Body |

Student Benefits
| | |
| --- | --- |
| Extensive Hands-On Practical Training | Partnership with Area fire Departments |
| Instructor has over 35 Years of Experience in Fire/EMS Profession | Multimedia Computer and Up-to-date Training Materials |
| SkillsUSA Participation and Competition | Identical Training Program as Provided to all Illinois' Firefighters |
| | |