---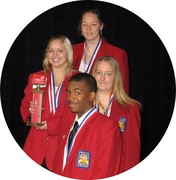 SkillsUSA Illinois First Place Team are KACC Business Technology/Management Class Members Heather McCaslin, Jessica Loferski, Ashley King, and Evon Wilson
---
Business Technology/Management
Course Description
The Business Technology/Management Program at KACC is designed to introduce students to the planning, marketing, operation and management of a business.  Program content will include general principles and practices of business planning, organization, management, entrepreneurship, information systems, communication, finances and marketing.  Interpersonal skills, brainstorming techniques, problem-solving and conflict management will also be covered.  In addition, students will utilize Microsoft Office programs to build written communication, desktop publishing, presentation, document and database management and financial record-keeping skills.  Students will develop their own electronic career portfolio with resumes, references, job and college search results and interest/skill inventories.
Teaching techniques include textbook lessons and review; classroom discussion and role playing; teamwork; special group and individual project work; and research Virtual Business Management and Retail Marketing simulation programs. 
To provide hands-on practice, students will utilize three computer simulations and participate in running an actual start-up company during the 15-week Junior Achievement Company Program. Students will organize, manage and liquidate their company all while learning the business functions associated with financing, production, and marketing of a product and/or service they select.  Students will track inventory and finances, produce a corporate annual report upon liquidation of the business, with the goal of earning a profit to be paid to their shareholders.  Opportunities exist to compete with other Junior Achievement companies at the regional, national and international level. 
Students will also be given an opportunity to meet and learn from business leaders in the community through guest speakers in the classroom, job shadowing and field trips.
Students participate in the Future Business Leaders of America (FBLA) and may choose to compete in various SkillsUSA Leadership programs.  These programs offer the opportunity for students to network, share ideas and participate in local, state and national competitions in various business-related areas.
Second-year students may have an opportunity to do an internship at a local business to extend their classroom learning directly to the community.  Internships are customized to students' future career goals and skill sets.