Jeff Umphrey, Construction Technololgy Instructor
---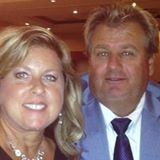 Jeff Umphrey with his wife, Laura Umphrey
---
Mr.. Umphrey comes from a family with a long history of construction. Mr. Umphrey's grandfather, father, uncle and brother were all General Contractors or Superintendents for large commercial contractors.
A graduate from Bradley-Bourbonnais Community High School (in the BBCHS Hall of Fame), Mr. Umphrey went on to attend the University of Alabama where he earned a Bachelors in Science degree in Education, Industrial/Construction Technology. While attending the University of Alabama, he was also a member of the football and baseball teams in the early 1980's.
In addition to teaching full time at the Kankakee Area Career Center (KACC), Mr. Umphrey owns Umphrey Builders, Umphrey Shutter Co. and is also an elected official: Bourbonnais Township Supervisor. This is a testament to his work ethic and dedication to his profession and our community. This same work ethic and dedication is demonstrated in the classroom and at our construction site.
Mr. Umphrey taught in Vestavia Hills, Alabama where he was a State Champion Golf Coach. He returned to Bourbonnais in 1992 and is in his 26th year teaching here at KACC. Even after 26 years, Mr. Umphrey brings new technology and state-of-the-art materials and techniques to this curriculum.
Mr. Umphrey sets high expectations for all his students as they construct a beautiful home (currently our 21st!), preparing them for their future in the construction trades. He says he enjoys seeing and hearing from his past and present students and learning of their many successes.
On a personal note, Mr. Umphrey and his wife, Laura live in Bourbonnais. He has two children, Emily and Joseph, two step-children and five grandchildren. Of course, he loves Alabama football, family and relaxing on his boat with Laura and their grandchildren.