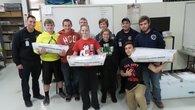 Back Row, left to right: Mandy Adcock(BBCHS), Firefighter/Paramedic Jim Schultz, Scott Marion (BBCHS), Nick King (Peotone), Colton Belske and Clara Mahlum (BBCHS), Firefighter/Paramedic Leo Lopez, Brayden Baker (BBCHS). Middle Row: Mandy Adcock (BBCHS) and Kristen Thompson (Grant Park) and kneeling is Dustin Meyer (BBCHS).
After having learned about the Bourbonnais Fire Department funding and budgets, the students enrolled in the Fire-Rescue curriculum at the Kankakee Area Career Center (KACC) assisted the Bourbonnais Firefighter's Association with their annual fundraising event. Students, along with member of the department, worked together to stuff over 9,000 envelopes for their 28th Annual winter Benefit Dance, Raffle and Silent auction. . . . read more
The State of Oregon and Support for CTE!
As an industry, we have a lot to be thankful for this year. We are beginning to see the light at the end of this recession marked by a slow yet steady uptick in construction work. We are also looking ahead to another long legislative session in Salem and are seeing progress on a key industry initiative to restore funding support for . . . read more

KACC Law Enforcement Instructor
Kankakee Area Career Center (KACC) is delighted to welcome Don Barber to our faculty. Mr. Barber comes from a Law Enforcement family. His father served our community as a Kankakee City Police Officer. Mr. Barber must have found his father's career appealing because he sure made his own strides having . . . read more