---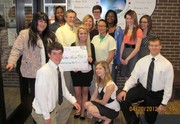 Bottom: Cole Scanlon; Julie Kaski; Thomas Harwood (VP of Finance); holding the check is Kaelynn Fay (VP of Public Relations); next to her is Perla Villagomez; in the back row behind Dr. Morgan is Jasmine Shanks (VP of Human Resources); Gavin Bisaillon (VP of Production); Ajee Bryant (President); Megan Pilbeam (VP of Marketing) and Alexandria Mausehund (Comptroller).
---
KACC Business Students Make a Positive Difference in Their Communities
Junior Achievement Company Program profits yield donations to two area charities
Inspire … Improve … Empower!  These three words represent the core values and mission of one of the three student- run companies created within the Business Management Technology curriculum.  Under the Junior Achievement (JA) Company Program, students got the first taste of what it's like to run a business ~ from start-up to liquidation. 
Over the course of 18 weeks, students elected their leadership team and set about developing everything from a mission and vision statement, to selecting and producing a product, to maintaining all their financial records.  Companies were capitalized through the sale of stock for $2 per share to investors. Initial capital was then used to purchase materials to manufacture their products. 
Each company had six officers – a President and five Vice-Presidents (Marketing, Human Resources, Production, Finance and Public Relations).  Students were required to formally apply for positions within the company and deliver speeches if they were vying to hold an officer position.  Rules of Parliamentary Procedure were followed for weekly Board of Directors meeting, where agendas and minutes were used to make decisions about everything from wages to product pricing.  Students then wrote a business plan that included their pricing strategies, break-even analysis and product evaluation, marketing and sales plans, and production steps.  Both individual and company goals were set, followed by stock and product sales training conducted by student officers in charge of those departments. 
In the end, all three companies met their break-even point and were able to pay expenses.  Two companies showed a positive profit and were able to return a dividend to their investors as well as make a donation to local charities.  On April 20th, students from Anono.Nation made a $46 donation to the local Salvation Army.  That same afternoon, C2 officers and employees made a $202 donation to Harbor House.   Students from all three companies attended a local JA Bowl-a-thon the raise both money and awareness about JA programs in the business community, and together raised $200 presented to Mandy Austin, JA Representative, on April 5th. 
Details about each company's results are highlighted below, along with feedback from the students on what the experience meant to them.  You ay click on the Annual Report link to see the final results of each company's performance.
ReachOut
Product:  Handmade twine jewelry and accessories
Net Profit:   -$39.53
Return to Shareholders:  $1.14
President:  Tyler Stark, BBCHS
This company experienced the reality of what many companies go through in their first year of operation – everything from lack of leadership and motivation to poor product choice.  President Tyler Stark said it well in the essay that landed him a $1000 scholarship from Junior Achievement. "Great leadership is necessary in any business. It's always best to ensure that your leader or leaders are 100% committed to both your company and the product or service your company has to offer.  If your employees aren't interested, it will show in your company's work. Many employees will also leave a company mentally, before they do physically. You must rid of the bad apples, and start fresh with a pair of new, motivated hands."
Lack of communication across departments and at Board meetings also impacted this company's ability to achieve their goals.  "At the birth of our business, no one wanted to share information with one another," shared Jessica Brown, the company's Vice President of Public Relations.  "It is essential to be able to talk to each person within the company, and be willing to listen … the commitment of both leaders and employees working together is what makes a company truly successful". 
In addition to struggles with management, the company had two employees "transfer" out halfway through the process, and a new employee join the company 3 weeks before liquidation.  Students did not give up and managed to learn from those struggles developing innovative ways to sell their products.  They approached another company within the program and subcontracted with them to sell ReachOut's products for a 30% commission.  This arrangement netted them $28 in additional sales, enabling them to return at least a portion of their shareholders' original investment.  While the financial numbers were negative, the real-life application of what this group of students learned was about as positive and real as it gets.
Anono.Nation
Product:  Ribbon Photo Boards
Net Profit:  $74.45
Return to Shareholders:  $2.68/share (34%)
Donation:  $46 to Salvation Army
President:  Melina Pizano, Clifton Central HS
Anono.Nation set out with a goal of improving and inspiring people to make a positive difference. This vision found its way into the product they ultimately made and sold.  They used donated and recycled materials to create ribbon photo boards in two different sizes which were lightweight and custom designed.  After some trial and error, they discovered the most efficient way to produce the boards and set up a production process to fill customer orders. 
Deric Hanners, the company's VP of Production shared his experiences with the job of running that department.  "Whenever we had a problem with production, I was the man to call. The first board … took us almost 2 hours to make. We knew we had to make them quicker than that.  After some changes and a little practice, we cut our production time almost in half -- to about an hour and 15 minutes."  Being in charge of a department isn't easy though.  "Training employees isn't as hard as I thought it was going to be, they caught on quickly and were able to produce high quality boards.  I was also able to work on skills like communication, and also being the boss of your friends.  In the end I think that I learned a lot of valuable skills that will help me in the long run," stated Deric.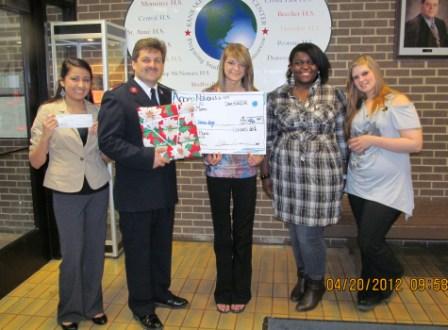 Anono.Nation presents a check for $46 to Gerald O'Neil, Executive Director of the local Salvation Army 
In the end, although Anono.Nation did not meet their sales goals, they did break even and return a dividend to their shareholders, with enough left over to make a donation of $46 to the local Salvation Army. 
C2 … Customizing our Communities
Product:  Clip-It Notepads & Custom Gift Bags
Net Profit:  $269.10
Return to Shareholders:  $3.00/share (50%)
Donation:  $202.10 to Harbor House
President:  Ajee Bryant, Kankakee HS
The largest and most financially successful of the three companies, C2 began its life with a pretty common theme when it came to what product they would sell.  T-shirts and awareness bracelets seemed to be the rage. Employees in this company spent a lot of time researching how they might put a unique spin on a common product.  Then, one student brought in a fundraiser catalog displaying different purses and accessories and the idea of doing a portable notepad was born. 
Prototypes included 4" square, 50-page notepads with a cardstock cover.  Like the other companies, the end product evolved into something more practical and attractive to the customer – a 3" round, 100 page refillable notepad with a lanyard clip on the ring for attaching it to purses, backpacks or luggage.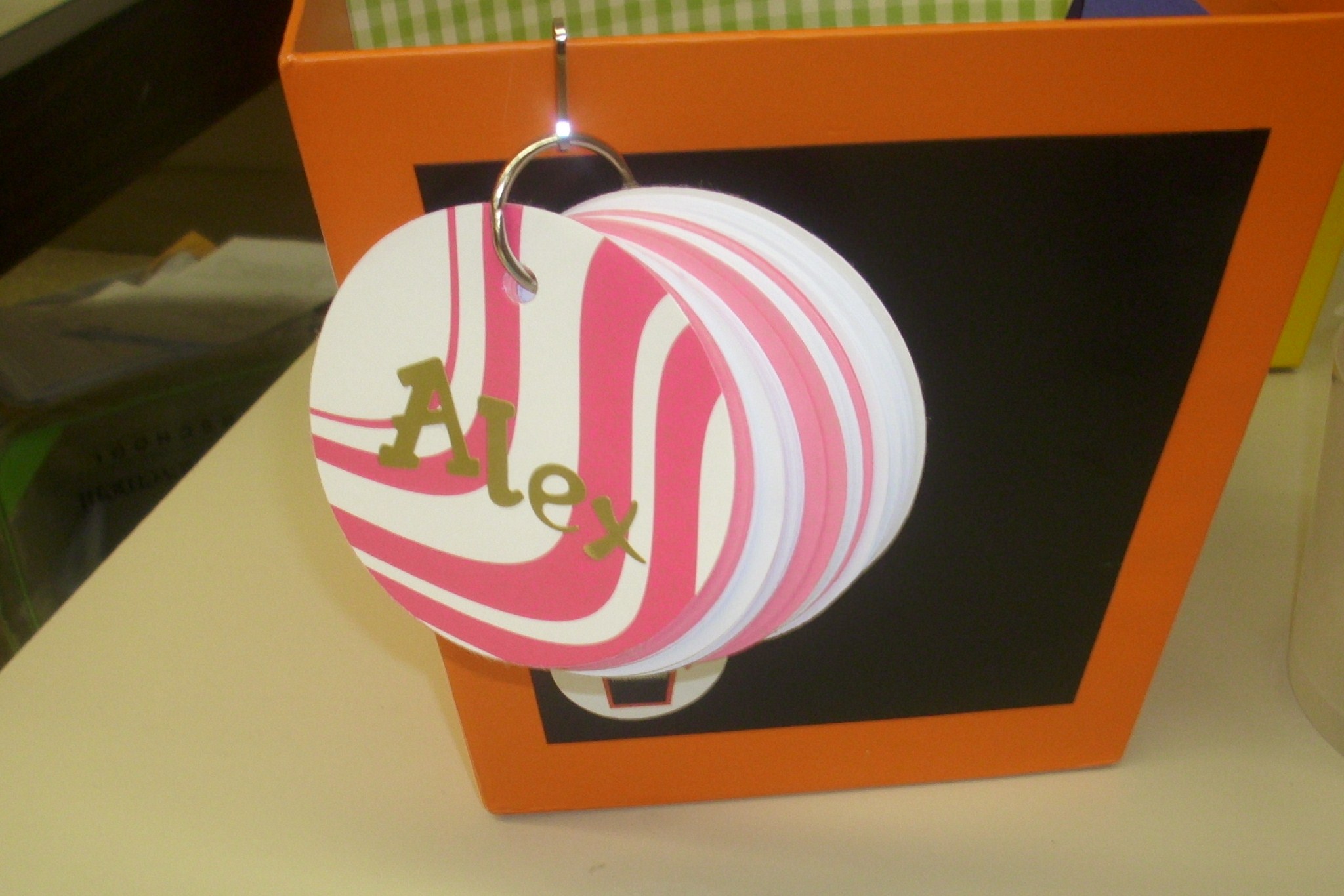 The employees of C2 wanted to recognize the individuality of their customers by customizing the products to match personalities and preferences of the market they were targeting.  So they decided to offer the option of adding letters and symbols personalizing them with names or messages.  This option dramatically increased their sales.  They soon began receiving larger orders from a wide variety of customers.  Everyone they met wanted a clip-it!  They even received an order for 12 notepads all in pink to be used as party favors for a 10-year old girl's birthday party! 
This company's biggest challenge was keeping up with inventory and tracking sales and commissions.  It was exciting to be making money, but it meant more days spent in production mode than the other companies.  Their top salesperson, Jasmine Shanks, came in the very first sales turn-in day with $58 in orders just from her family, all customized.  That meant a new form had to be created to track the order, cut the paper, choose the covers and then customize the notepad with the right wording. 
When they finished selling and recording all their financial activities, they had achieved a net profit of $269.10.  The question facing them was how to split that profit between their shareholders and the donation they wanted to make to Harbor House.  Early on, one of the officers, Megan Pilbeam, had suggested Harbor House as the recipient of their donation.  She knew a great deal about the services they provide to victims of domestic violence, and that their funding comes almost entirely from donations and fundraising.  Megan and two other officers, Ajee Bryant and Kaelynn Fay, attended an early morning Harbor House Board meeting to present their idea and product, and share their desire to help.  On April 20th, after paying all their expenses, returning a 50% dividend to their shareholder, C2 presented Harbor House with a $202.10 donation in the front lobby of the Career Center.