Gloria Alcantar, Cosmetology II Instructor
---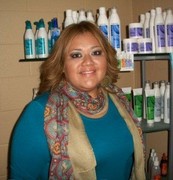 Ms. Alcantar
---
Inspiring her students to be the best they can be!
For a young woman, Gloria Alcantar has quite a long history of great experience and education to share with her Cosmetology II students.  The diversity she brings, having spent a good deal of time in business as well as education made her a great addition to our KACC faculty.
Ms. Alcantar has been actively involved in the beauty industry since starting school at Trendsetters College of Cosmetology in January of 2003. Immediately after graduating, Ms. Alcantar knew she wanted to teach and immediately entered the Instructor's Training Program at Trendsetters.  She became a licensed instructor in 2004.
While there, Ms. Alcantar worked as a Learning Leader in both the Bradley and Mokena campuses. Even as a Learning Leader, Ms. Alcantar did not stop her education.  She had much additional training including a Core Curriculum Training in Florida.
All during her years of teaching, Ms. Alcantar continued to serve her clientele as she owned and operated her own salon in Aroma Park. Talk about a balancing act!
Since then, Ms. Alcantar has worked in a variety of salon settings around the area before choosing to return to her passion of teaching. Ms. Alcantar says she "Is very happy to be able to fulfill her LOVE of teaching again."  You can tell she is happy being here with us at KACC as she always has a smile for everyone.
Ms. Alcantar says she is passionate about the industry and "strives to be a positive influence to all students." She hopes she can continue to inspire them to be the best they can be and represent the beauty industry in a positive way.