Update -Law Enforcement Students Undergo Self Defense Training
---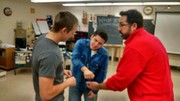 Duane Brumitt working with students
---
Short Video Added
Update - January 27, 2015 -
Mr. Barber shared an additional video and pictures from the continuing Self-Defense class being taught by Mr. Brumitt:
Photo's can be accessed below:
Law Enforcement Instructor, Don Barber has enlisted the services of Duane Brumitt, Martial Arts Instructor from Tri Star, to work with his students in the area of self defense training.
The training exercises are being conducted in his classroom every Tuesday during the month of January. In addition, Mr. Barber is looking to have additional sessions available for KACC faculty, staff and their families.
Being aware of potential threats and having the ability to protect oneself is a valuable skill, whether or not you are in law enforcement, education, a high school or college student, it just helps to be prepared.
The pictures below were taken from the first session.