Thanks Illinois State Police!
---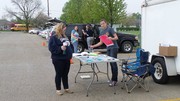 Lots of information available to families.
---
Special thanks to several members of the Illinois State Police, who teamed up with our Law Enforcement Instructor, Don Barber, and our Child Development Preschool Program to hold a Car Safety Seat Installation/Inspection right here at the Kankakee Area Career Center.
Parents, grandparents, and one mom, expecting her 2nd child in a mere 3 weeks, came to take part in this program. In all 10 families took advantage of this wonderful program and 4 carseats were given away to those in need.
KACC, our Law Enforcement Students and Child Development/Preschool students wish to specifically thank Master Sergeant Anglea Kinstner, Master Seargent Cindy Hodge, Sergeant Steve Sigler and Trooper Jayme Bufford for coming to the Career Center and showing one of the many wonderful community outreach services in which our local law enforcement agents take a part.