Thanks Mr. Cavender!
---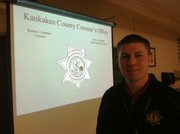 Deputy Chief Coroner Eric Cavender
---
Deputy chief coroner Eric Cavender gave a presentation to KACC Fire-Rescue-EMR and Law Enforcement Students.
Considering our speaker was the Deputy Chief Corner, the presentation did revolve around death in Kankakee county. Mr. Cavender covered not only the job duties of a coroner, he also informed our students about causes of death and criteria's for doing autopsies.
The presentation then went into a variety of issues which happen at time of death along and provided information about toxicology issues and statistics on all deaths within Kankakee County.
Mr. Cavender also shared information organ donations and cremations.
All-in-all, students were attentive and engaged while learning valuable information.
Law Enforcement Instructor, Don Barber spoke gratefully about Mr. Cavendar stating "Students hearing first-hand from local professionals is extremely worthwhile and supports what we are teaching in class."
Thanks again Mr. Cavender for sharing a wealth of information and your professional experience with our students.