Thanks Limestone Fire Protection District!
---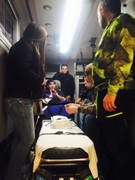 L to R: Caitlin Woolsey, Central HS; Lt. Rich DeBouck, Limestone FD; Lucas Gibson, Kankakee HS; Wesley White, BCHS; Jared Sands, Central HS and Tyler Greybill, BBCHS)
---
Chief Mike Whalen and the Limestone Fire Protection District recently welcomed KACC Fire-Rescue-EMR students for an informational session, demonstration and closer look at their Advanced Life Ambulance and the various types of equipment it holds.
Ed Leeson, Fire-Rescue-EMR Instructor stated he and his student were very grateful to spend time with members of the department. Special note of thanks was given to Captain Wulff, Lt. DeBouck and Firefighter/Paramedics Palmateer and Elder as they "really seemed to impress the students with their knowledge and professionalism."
KACC Fire-Rescue-EMR Students are currently focused on studies and skills sets needed for students to successfully complete their certification as an Emergency Medical Responder. The Certification and preparation are in conjunction with Presence St. Mary's Hospital and the Illinois Department of Public Health.
Experiences, like these, outside the classrooms, students are able to actually see, first-hand, equipment utilized and witness the wonderful professionals we have right here in Kankakee County.