Non-Deadly Force
---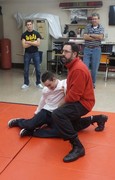 Don Barber, Law Enforcement Instructor
Master Duane Brumitt demonstrates a takedown on Cameron Devries while Trevor Berns and KACC Teacher Assistant Josh Martin observe.
---
Students Learn Defensive Tactics
KACC Law Enforcement students are learning Non-Deadly Force defensive tactics by local martial arts expert Professor Duane Brumitt of Tri-Star Martial Arts Academy located in Bradley. Brumitt comes to KACC every Thursday for 6 weeks for this training program.
Students are learning the most complete justifiable methods of Empty Handed Control and Last Resort Weapon Disarms used in today's liability-conscious world. When executed with proper positioning and technique, these methods will help ensure the well-being of all individuals all while minimizing the potential liability risk to the individual(s) and/or their respective organization(s).
---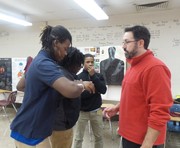 Don Barber, Law Enforcement Instructor
Tyree Jordan demonstrating a Com-a-long hold on Andrew Campbell as Lagarius Hammond and Master Brumit observe.
---
KACC students also learned about how their future may be jeopardized due to a lack of proper or insufficient training. Improper or insufficient training can lead to being a target in criminal and/or civil cases for "excessive" or "inappropriate" use of force.
---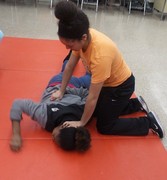 Don Barber, Law Enforcement Instructor.
Kali Latty (top) attempts a prone handcuffing technique on Shanika Smith.
---
The techniques taught are direct and simple techniques. Because KACC Law Enforcement Instructor, Don Barber, reached out to Professor Brumitt, the techniques can be mastered in a relatively short time. The fact is; it is far easier to apply techniques that inflict needless harm on a person than it is to legally and justifiably control them.
"It was stressed and emphasized throughout the training that the least amount of force necessary in any given situation should be utilized," stated Brumitt. "Each technique, he continued "was demonstrated, and then applied over and over to allow the trainees to employ the least amount of force reasonable to control the situation at hand."