Menu of Salon Services
---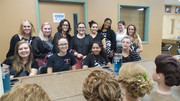 Salon is open to public Tuesdays through Saturdays. See menu for exact hours.
---
KACC School of Cosmetology Salon Open to Public!
One of the many unknown gems of the Kankakee Area Career Center is our Full Service Salon. This salon is a very important part of our School of Cosmetology as it offers our students to work in a real, full-service salon environment.
Clients often inform us how they are pleasantly surprised at how professional and competent our Cosmetology students are. "Our teaching staff does a fine job ensuring the level of salon services is exceptional," stated Principal Goodale. "Our program remains incredibly popular, both with students and the clients we serve.
For a complete list of salon services availible to you, just click on the link below: