Thanks Lt. Joines and Bourbonnais FPD
---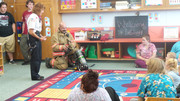 Lt. Mileen Joines and Lt. Kevin Petersen talk to students about the clothing a fire-fighter wears.
---
Thanks to Bourbonnais Fire Protection District (BFPD) Lt. Mileen Joines, Lt. Kevin Peterson and Firefighter/Paramedics Jake Beasley, Erick Mifflin, Jerry, Boudreau, Justin Braun and Hana Landry for coming to the Kankakee Area Career Center to instruct our KACC Preschool 3-5 years old on fire safety.
This great group of fire-rescue professionals brought BFPD's Safety Trailer too! The students enter the house and learn about tornado safety, fire safety and kitchen safety. They also learn how to escape a fire and have a safe meeting place for the family outside.
Not only did our preschoolers learn a lot about fire-safety, the KACC Fire-Rescue-EMR students were given a fantastic example of giving back by providing important instruction within the community. KACC Fire-Rescue-EMR Instructor, Ed Leeson commented, "The interaction between the firefighters and the young children really highlighted an aspect of being a firefighter which is often overlooked and goes unrecognized" as he praised Lt Joines and her team for the way information was presented and for the way in which they utilized the safety trailer for instruction. This was a perfect addition to their current focus on fire prevention and public fire safety education.
BFPD has time and again, been an incredible resource to Kankakee Area Career Center.
Thank you!