Taking Fire-Rescue-EMR To College
---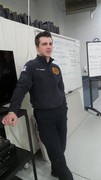 Zack Hamman shared his insight with current students.
---
Zack Hamman and AJ Hack, KACC Alumni
Two former KACC students returned for a quick visit over the Thanksgiving Holiday. Fire-Rescue-EMR Instructor, Ed Leeson, was delighted to see them and put them right to work, asking each to give an impromptu presentation on the transition from high school to college life.

During the morning session, Zack Hamann, former KACC/Momence student spoke with students. Young Mr. Hamann has remained a member of the Grant Park Fire District all while attending Grandview University in Iowa.
---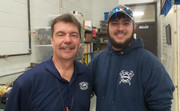 KACC Fire-Rescue-EMR Instructor, Ed Leeson with former student A.J. Hack
---
As a college freshman, Zack is studying to be a nurse, is a member of the football team and a member of the track team. He spoke about the transition from high school to college. He stated there is no mom to wake you up. His day typically begins at 5:00 a.m. and ends around midnight to 1:00 a.m. During the week, he has weightlifting, football practice, classes and studying. Saturdays were game days and Sundays were all about making sure homework and laundry are done.
Zack stated his Fire-Rescue-EMR was one of the most wonderful experiences for him. He stated "It prepared me" to be out in the public, for the fire academy and has been very beneficial. By the time he graduated high school and KACC, he had earned is Fire Certification, EMR, CPR and EMT.
Zack's career plan is to take his Fire-Rescue-EMR training, nursing degree and become a flight nurse so he can continue to work in a fire house in addition to working on a helicopter. He enthusiastically remarked he will have "The Best of Both Worlds!"
Zack encouraged all the students "Don't be afraid to go knock on the door" of your local fire department to talk with someone and see how you can become a member of the department. It is the "Best Job in the World!". When the room was queried, 7 of 16 students were already working with a local fire department, which this reporter found pretty impressive.
Later in the day, AJ Hack stopped in to see Mr. Leeson. AJ graduated KACC/Central High School last year. Unlike Jake, AJ was at the Career Center 1 year, instead of 2. He did happen to attend the year our curriculum included EMR Certification Training.
AJ joined Ashkum Fire Department as a volunteer when he was 15. He has been called to the Fire-Rescue career path for quite a while – most likely inspired by his dad who is in charge of the ambulances at Riverside Medical Center.
AJ is taking his Fire-Rescue career to a much different path than Zack. AJ currently attends U of I and is studying Fire Protection Engineering. These engineers are much like the architects of Fire Protection, helping design sprinkler systems and fire alarm system. It is another excellent career path in the Fire-Rescue realm. He is undertaking a 5-year program: 4 years at U of I and 1 year of courses at U of Maryland, which focuses on the Fire Engineering. He will be able to accomplish the U of Maryland classes online.
In the meantime, he is extremely busy studying and attending class. He advised the students they need to "Find balance in their life and make good decisions about attending class. Social Life is great" he said, "But now, I study to 2 or 3 a.m." According to AJ, it is all worth it when you "Do what you love."
His first semester at U of I, AJ's EMR can in very handy for a fellow student. AJ was in the dining hall when a fellow student passed out. As it turns out, it was because the student was chocking. AJ was able to administer the steps necessary to remove the blockage before the paramedics were able to arrive.
The students he spoke to were all juniors in high school. He encouraged them to stick with the program and return next year to earn their EMR certification. In the meantime, he told them to "Join your town's fire service, do ride-alongs" basically whatever they can to get involved in Fire-Rescue.
Mr. Leeson is always delighted when students return to speak with his class. These two fine young men are exceptional examples of the types of students who attend the Kankakee Area Career Center and go on to study and become successful in their chosen careers.