Reading Fun!
---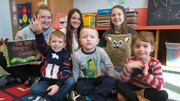 Back row are Child Development Students Angel Hambrick, Manteno; Adriana Pusateri, Bourbonnais; and, Mariah Sumowski, Manteno. Preschool students in front row, left to right are: Mason Lebda, Bourbonnais; Cameron Cox, Kankakee; and, Rachel Horrell, Bourbonnais.
---
KACC Child Development/Preschool students undertook a project to make their own individual copies of a storybook.
Our high school students embraced this project and brought their creativity and talents front and center.
Preschoolers seemed to really enjoy the books. How fun to pet a fluffy cat on the front cover, or grab a book covered in pink sparkles. Whatever helps a child to get excited to read is a good thing!
---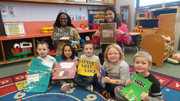 Left to right HS girls- Dana Ferguson Park Forest, Chelsey Pizano Bradley Left to right Prek- Gabe Hankey Kankakee, Sofia Moreno-Rosas Bourbonnais, Landon Clyden Bourbonnais, Isabella Goodwin Bourbonnais, David Perkins Bradley.
---