Law Dogs Take the Plunge!
---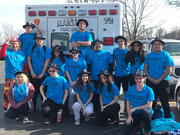 donated the shirts for those students who went out and raised money for this worthwhile charity. Font row L to R: Kasie Purnell, Kankakee; Connor Terrell, Bourbonnais; Hailey Livak, Beecher; Payton Kerness, St.Anne; and Jake Schnell Manteno; 2nd Row L to R: Ed Leeson, Manteno; Rigoberto Galvan, Kankakee; Alondra Baez, Kankakee; Nick Buckley, Herscher; Don Barber, Bradley; Daniel Dralle Manteno; Alyssa Leal, Beecher; and Andrew Medina, Onarga; 3rd Row Ramiro Zavala, Kankakee and Zach Davis, Bourbonnais Three students not on pictures who took the plunge are: Dylan Martin and Walker Duval, Manteno and Kelsey Papineau
---
Annual Polar Plunge into Manteno Lake
Kankakee Area Career Center Law Enforcement Students formed the team "Law Dogs" to take the annual Polar Plunge into Manteno Lake on March 4th.
Career Center Law Enforcement students and their instructor Don Barber, were able to raise over $2,000. polar plunge, raising over $2,000 for Special Olympics! Law Enforcement Instructor, Don Barber, who also took the plunge, was very proud of his students. Fellow KACC Fire-Rescue-EMR Instructor, Ed Leeson decided to join the group in support of this wonderful event.
Special thanks to Premium Specialties (Dave O'Connell and Don Ciaccio) who donated the Tee Shirts withe the Team Name and Logo!!! This is the 3rd year they have donated the shirts for those students who went out and raised money for this worthwhile charity