St. Baldrick's Event at CSL Behring
---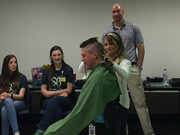 And there goes the hair! Brian Corbett generously gave his hair in exchange for a great cause! Nicole Carpenter KACC Cosmetology Student, who recently graduated at the helm of the cutters.
---
KACC Cosmetology Program Ready to Help
When the phone call came through from Melissa Tanner, CSL Behring's Communication Specialist, the Kankakee Area Career Center (KACC) jumped at the chance to participate in their St. Baldrick's fundraising effort on March 30th.
KACC's Adult Cosmetology Program Instructor, Tonya Born, accompanied by fellow instructor Michelle McWilliams and our KACC Adult Cosmo Students participated in the day, helping CSL raise funds for this important foundation.
CSL Behring had four employees, Brian Corbett, Justin Sommer, Ryan Cox and Mike Memenga, who volunteered to shave their heads. Interestingly, CSL employee Mike Stephenson volunteered to shave his 32 year old beard if his fellow employees donated enough money. Guess what - They sure did. Mr. Stephenson's own children have never seen him without a beard, but he fulfilled his promise and shaved it all off - but not before Ms. Born colored it green in honor of the St. Baldrick's Foundation.
---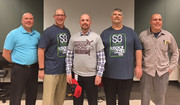 All Shaved! Brian Corbett, Mike Memenga, Ryan Cox, Mike Stephenson and Justin Sommer.
---
For those unfamiliar with St. Baldrick's Foundation, you should know they are dedicated to research to find a cure for children's cancers, all while helping to support the families of those effected. In fact, according to St. Baldrick's Foundation, they fund more in childhood cancer research grants than any organization other than the U.S. Government.
According to Ms. Tanner, CLS established a goal of raising $2,500 in order for the 5 men to be shaved. The CSL employee base, known for their generous spirit, embraced the idea, exceeding the goal by raising a whopping $3,600 for the foundation. Additional employees showed their support of this worthy cause by paying an additional $5.00 to purchase green streaks for their hair.
Ms. Tanner wrote to KACC stating they are "very thankful for the Career Center's willingness and enthusiasm to be a part of our event." Here at KACC, we appreciate those kind words and want CSL Behring know how much we appreciate them for allowing KACC Cosmetology program to participate. Instructor Born is known within the school as someone with a philanthropic attitude and stated "I appreciate the opportunity to work with our students and CSL on this project. We train our students to be professional and ready for the business world, part of that is knowing the importance to give back to your community."
Thanks to all the folks at CSL who supported this St. Baldrick's event. We hope to team up on more great projects in the years to come.
---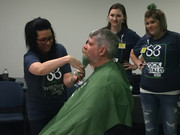 Tonya Born makes the first cut to Mark Stephenson's beard. EEEEK!
---
More pictures to view if you click on this picture.