Fire-Rescue-EMS to US Airman!
---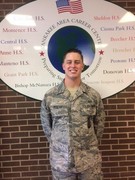 Airman Logan McClain
---
Welcome Back Logan!
There's not much of a better compliment for an instructor than having one of their former students return to catch up and share their stories of success since graduation.
Friday was another one of those special days here at KACC when Airman Basic Logan McClain, a 2016 graduate of KACC and Iroquois West returned to visit with the Fire-Rescue-EMS class and talk about his career path since graduating.
Logan shared with the class how just a mere year ago, he was sitting in in their seats. He explained how the curriculum helped him become successful in his current position as a United State Air Force Firefighter.
After graduating in may of 2016, Logan began two months of basic training. He then went on to four months of Firefighting Technical School at Goodfellow Air Force Base in Texas. Logan is currently assigned as a firefighter at Davis-Monthan Air Force Bas in Tuscon, Arizona.
What Logan said he found most beneficial about attending KACC was the fact the firefighting and EMS curriculum mirrored the training he received in the Air Force. He said it prepared him well and gave him added confidence that he would succeed.
---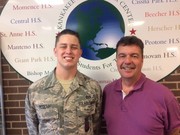 Airman McClain with Ed Leeson, KACC Fire-Rescue-EMR Instructor
---
Logan made sure our students understood the fact that because ofr the college credits he earned while attending KACC, along with the credits he earned during his Air Force training, he basically completed his Associates Degree in less than one year. All he needs now are credits in math and English.
One year ago, Logan said he had no intention of seeking a degree; but, because of the credits he earned at KACC and Air Force, as well as the benefits available through the US government, he now plans on furthering his education.