Draftopolis - Imagining a Lovely Town
---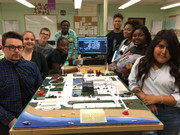 L to R: Matt Thomas, Momence; Amanda Ludwig, St. Anne; Ryan Hubler, Manteno; Davo McCoy and Emmanuel Pendleton, St. Anne; Jalen Williams, Momence; Arrivana Felix, Momence; Alaiah Cozart, St. Anne, Yiecel Zavala, Momence. Missing from picture is LaShae Davis, St. Anne.
---
What in the world is Draftopolils?
Draftopolis is the name of a Drafting + 3D Design project which will utilize several components of CAD/Drafting. It also includes model-making skills and use of our incredible 3D printer. Students from all our attending schools will be involved.
---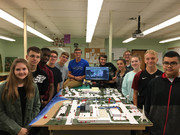 L to R: Hailey Ulman and Josh Nichols, Herscher; Jerome Thomas, Kankakee; Jacob Bramer, Dominick Panazzo and Kory Cohler, Central, Nick Redmand, BBCHS, Myah Gifford, Herscher; Daemien Aldridge, BBCHS, Alaina Zajac, Herscher; Brayden Bailey, Central; Morgan Pawlowski, Herscher
---
The project began with brainstorming to come to a consensus of what the "ideal town" is and what the vital components are for a good quality of life. Students determined arrangement of spaces and uses for those space. They designed a workable layout to incorporate the needs of commerce, services, residence, education, recreation and worship.
---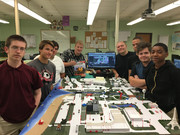 Christian Bisping, Kankakee; Alex Johnson, BBCHS; Xavier Neblock, BMac; Shane Smith, Grant Park; Xavier Powers, BBCHS; Xavier Menard, Kankakee; Jake Nicholson, BBCHS; Trevon Barnes, Kankakee; Missing today was Austin Szczepanski, BMac
---
Students worked in teams to develop the design to create Draftopolis using 2D and 3D drafting programs. Many of the buildings and objects were done using the model-making process while others employed 3D printing.

The overwhelming consensus of the students was that this project was both challenging and enjoy. "This was a really good exercise to begin our school year," said Mr. Kelley.

We look forward to seeing what they come up with next.