Professional Day in Drafting + 3D Design
---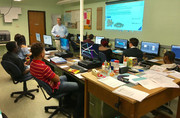 KACC Students with Jon Evans. L to R back row: Emmanual Pendleton (St Anne), Yiecel Zavala (Momence), Ariyana Felix (Momence), Jalen Williams (Momence), front row Jon Evans, Ryan Hubler (Manteno), Alaiah Cozart St Anne, Matt Thomas (St Anne), Dayo McCoy (St Anne).
---
Long-time partner from the business community, BIMBA Manufacturing once again provided KACC Drafting + 3D Design students with a good look into the real world of work.
KACC Instructor, Steve Kelley, creates an opportunity, he refers to as "Professional Day" into his curriculum. On these days, students are asked to dress as if they were going into the workplace (it's always great to see young adults dressed for success!).
Mr. Jon Evans, no stranger to KACC, came to speak with students about the work he does as an Application Specialist at BIMBA. Mr. Evans originally was interested in art, as he loved the creative and problem-solving processes. It was during college when he realized he can apply those same processes to Engineering and design. While at BIMBA, Mr. Evans has been involved in all sorts of applications - from heart pumps used in bypass surgery - to pistons used to dispense fluids in soda machines.
What a wonderful testimony to how professionals in the field can enrich the meaning of careers in technical education, helping us to fulfill our motto: Preparing Students for Tomorrow..