Sophomores Visit KACC
---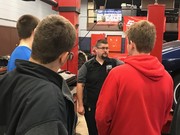 Jim Stafford, Auto Tech Instructor with students
---
Some years are just better than others - This was one of those times.
Sophomore Day at KACC went off without a hitch, thanks to great planning by Teresa Cailteaux, Lucas Papineau and our fantastic instructors working with the student volunteers.
---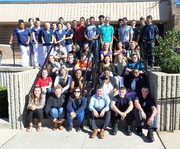 KACC Student Volunteers (Minus Child Development as they were with 3-5 year olds). Thank you for a great day!
---
KACC accepted 767 reservations from area high schools and home-schooled students. These fine young men and women moved through the building, easily finding their classrooms where they were given a 20-minute description/ demonstration of a specific curriculum of their choosing. Each student was able to attend three demonstrations of their choice and were given individual schedules to follow - keeping the building and flow of students smooth!
---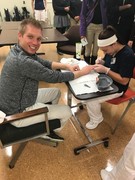 Stephen Sarsany, Beecher HS Counselor allows KACC Student to trim his nails.
---
Students completed surveys before heading back to their home schools with their counselors.
We look forward to seeing many of them here next year as students!
Note: Click on the pictures to view more of the day.