Meghann Miller
---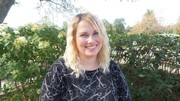 Meghann Miller
---
Cosmetology Phase I Instructor and SkillsUSA Team Leader
Before joining the KACC Cosmetology Department in 2015, Meghann Miller started her Cosmetology career in 2008 at Trendsetters a Paul Mitchell partner school. She graduated with honors in 2009. Taking the suggestion of one of her mentors, Mrs. Miller decided to go through the extra hours and training to obtain her Cosmetology Instructor's License. In 2009, she began teaching at the Paul Mitchell School in Tinley Park. During her time at Paul Mitchell, she continued her education by going to trainings offered in Las Vegas, Salt Lake City, and Chicago.
When Mrs. Miller joined the team here at KACC, she worked part-time, sharing her knowledge with students in men's hair cutting and salon skills. She began taking classes at Kankakee Community College and continues to work towards her associate's degree.
In 2016, KACC offered Mrs. Miller a full-time position and was delighted she accepted, becoming The Cosmetology Phase One Instructor. Since accepting this position, Mrs. Miller has created a curriculum structure for the first year students to better help them achieve their goal of not only graduating, but also graduating on time.
Mrs. Miller teaches the basics of Cosmetology, starting with wet styling, thermal styling and haircutting services ~ all the way to core of theory, which supports the structure and components of hair. While her students work on the same techniques, she knows each student works at different speeds and have different levels of understanding each subject. Mrs. Miller assures that all her students will accomplish the goals set within their learning style. She says she is "very proud" of her students.
Mrs. Miller has also taken on the task of SkillsUSA Lead Instructor for KACC. Mrs. Miller not only coordinates the majority of the promotion and back room operations of KACC's SkillsUSA competitions, she is also an excellent coach and mentor for this program. SkillsUSA is a nationwide organization promoting professional development, hard and soft-skills for career and technical education. State and National competitions are held in which students compete within in their subject of study. Students have the rare opportunity to be noticed nationally as the best in their field. Training for this program is very intense. Mrs. Miller says she could not be "more ecstatic for the students who pass the exams and place in State Competition." She has assisted students who not only took a first place at State, they moved on to National Competition.
Mrs. Miller says that she looks forward to spending many more years here at the Kankakee Area Career Center, helping young adults become successful Cosmetologists. All of us at KACC are glad she does!