Update from Christopher Canady
---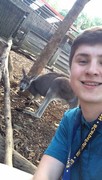 Chris in Australia
---
Every once in a while a student pops up to say hello. Earlier this month, we heard from Christopher Canady. Chris was a student in the KACC Law Enforcement class.
While Chris isn't working on a career in law enforcement, he is working toward getting a doctorate in neuropsychology with a goal to study how brain circuits are different in people diagnosed with with autism.
Whenever our formal students are doing well and continuing down the path of education for a career of their choosing - all of us at KACC are delighted.
Best of luck Christopher Canady as you continue in your studies.