A Path to NUCOR
---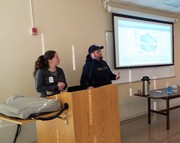 Caitlin Widdicombe, Chief Metallurgist and Chris Widdicombe, Melt Shop Electrical Supervisor
---
Chief Metallurgist and Melt Shop Electrical Supervisor visit KACC
KACC students had the unique opportunity to hear from two fine team members from NUCOR Steel Kankakee. Caitlin Widdicombe, Chief Metallurgist and Chris Widdicombe, Melt Shop Supervisor came to KACC and spent an entire day meeting with groups of students from a variety of curriculum areas.
Director Kelley and Principal Guerin believe opening the opportunity to this variety of students because many of the attributes, knowledge and skill sets developed here at KACC are certainly transferrable to a fine career - whether it be in metallurgy, electrical engineering, production, manufacturing, welding, etc.
The presentation initiated with an overall background on NUCOR Steel, the corporate culture, values, and letting students know just how much an emphasis is placed on safety.
Of course, there was information surrounding the specific skill sets and some of the personality traits needed to be successful. Students learned about how employees who do well at their entry-level positions and work hard, embrace learning new skills, being a good team member/collaborator as well as taking a leadership role when appropriate, typically find themselves continuing on in a good career within a variety of position withing NUCOR - some even across state lines - considering they are a national firm.
Manufacturing today, as students are discovering, is not manufacturing of old. For this reason, Ms. Widdicombe and Mr. Widdicombe presented information about the products made at NUCOR and walked students through the manufacturing process, including a video presentation.
Thanks Widdicombes and NUCOR Steel for spending a meaningful and insightful day at KACC!