Fire Fighter Peer Support Team
---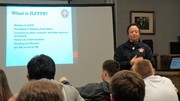 Mary Robbins, Firefighter/Paramedic from Manteno Fire Protection District and Northern Regional Coordinator for IL Fire Fighter Peer Support ILFFPS Team
---
Thanks Manteno Fire District and ILFFPS
Firefighter/Paramedic, Mary Robbins, of the Manteno Fire Protection District is also the Northern Regional Coordinator for the Illinois Fire Fighter Peer Support (ILFFPS). Firefighter Robbins came to KACC to speak with the Fire-Rescue-EMS and Law Enforcement students about the Peer Support Program.
Those who choose to enter public service as emergency responders are often subjected to many stressors and pressures due to situations and events they encounter on teh job. Unfortunately, sometimes when these conditions become overwhelming negative outcomes such as substance abuse and suicide result.
In an effort to address this issue, the Illinois Fire Fighter Peer Support Team was formed to provide trained peer support in a safe, nonjudgmental and confidential environment where members can engage in a healing and engage in an ongoing emotional wellness process with a peer during a time of need.
Students were left with the important message that none of us have to struggle alone. Whether in their careers, school years or everyday life, there are going to be times that are tough by virtue of what we experience as human beings. Strength is not shouldering another burden; rather, strength is in letting go and asking for help. Firefighter Robbins emphasized the importance of having a peer to talk with - someone who can understand what you are experiences. The ILFFPS program is geared to do just that.
We here at KACC frequently restate our goal of preparing students for tomorrow and providing them real-world experiences to better prepare them to enter the workforce. We cannot achieve this without the partnerships from our workforce counterparts, like Manteno Fire Department and Firefighter Robbins.