C.N.A. Clinical Lab Supervisor
---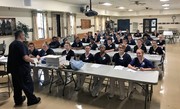 CNA Students Receiving Orientation at Manteno Veteran's Home
---
Teach Tomorrow's Healthcare Workers
Join Kankakee Area Career Center's wonderful team of nurses as a C.N.A. Clinical Lab Supervisor. This Clinical Lab Supervisor will to work with high school juniors and seniors as they prepare to qualify for their Certified Nurse Assistant State Examination. This is a 9-month position, M-F 8:00 am to 3:00 pm, concurrent with the school year.
This person will assist instructors in overseeing C.N.A. Training Program students with an emphasis on coordinating departmental/theory/lab rotations and training students in the 21 C.N.A. Performance Skills following IDPH guidelines. Help prepare tomorrow's healthcare workers by contributing to their career development, maturity and responsibility.
Three days per week are held at KACC in the classroom and/or lab setting. On Tues. and Thurs. accompany students to a local extended care facility for clinical training.
Qualifications: Registered Nurse with minimum of two (2) years experience, with at least one (1) year in an extended care environment. Successful candidate must be willing to obtain IDPH C.N.A. Train the Trainer Certification in theory and clinical areas. Fingerprint Background check and physical required prior to start date in August, 2018.
To apply: Please send letter of introduction and resume to Timothy M. Guerin at argyelana@kacc.org. Equal Opportunity Employer