Skills? Oh Yeah, KACC Students Sure Does Have 'em!
---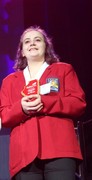 Keeley Smith, First Place in State of Illinois SkillsUSA Competition for Collision Repair Technology.
---
Now, On to Naitonals
KACC continued a long tradition of excellence at this year's SkillsUSA State Competition. The students who competed were an exceptional group of young adults who did an amazing job.
Former Skills Advisor and current Dean of Students, Lucas Papineau said he wasn't at all surprised we have a student moving on to National Competition in Louisville Kentucky. "KACC students are well respected in the SkillsUSA arena and are always competitive.
Keeley Smith, Collision Repair Technology student from Donovan High School took first place. She will travel to Louisville in June. Of the 48 students who competed at Skills, 20 came home top-ten finishers. This is quite the feat considering over 700 vying for the chance to go on to Nationals.
Skills advisor, Meghann Miller said "I am personally proud of each and every student who participated in the competition...time spent preparing and watching them in action during their competition and witnessing their sense of pride and accomplishment, really makes you proud of everything they have achieved."
Top-ten finishers for the 2018 State of Illinois SkillsUSA Competition included:
Along with Keeley's 1st place finish, other top-ten students were: 2nd Place for Criminal Scene Investigation Team were: Matthew Gonzales and Kaela Dover, Beecher HS and Liliana Cruz, St. Anne HS; 2nd Place for Automotive Full Service was Colt Robey from Donovan HS; 3rd Place Cosmetology was Alicia Avalos, Herscher HS; 4th Place for Full Service Auto was Sarah DeJonge, Grant Park HS; and Criminal Scene Investigation Team of Kaitlin Bowers, Central HS, Kelsey Papineau, Herscher HS, Jacquelyn Acosta, Crete-Monee HS; 5th Place Karlie Moffit, Beecher HS in Nurse Assisting; 7th Place, David Calzaretta, Manteno HS in Electrical Construction Wiring and Dalton Grimes, Watseka HS; as well as KACC Fabrication Team of Zach White, Bradyn Peters and Andrew Phelps all BBCHS students; 8th Place Steven Emling, BBCHS Automotive Service Technology and Zowie Trudeau, Preschool Bulletin Board; 9th Place Bryan Gabe, BBCHS Information Tech Services; and in 10th Place Jeremy Neufeld in Criminal Justice.
KACC Principal, Tim Guerin, was a first-time attendee. He returned from this 2-day event energized about the SkillsUSA program. "There is an amazing link between professional development and the hands-on skill development which I found extremely impressive. These young men and women were incredibly talented and professional at all times and represented KACC well."
The skills gap we hear about is real and KACC intends to continue to combat it by fulfilling our motto: Preparing Students for Tomorrow.
Good Luck at Nationals Keeley Smith! You Go Girl!