Courtney Regnier
---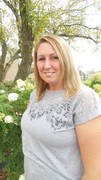 Courtney Regnier, Cosmetology Instructor
---
Cosmetology Instructor
Ms. Courtney or Ms. Coco as the students call her, started her career in Cosmetology when she enrolled at Trendsetters, A Paul Mitchell partner school in September 2009. She graduated with perfect attendance in August 2010.
Early into her cosmetology program, Ms. Courtney knew she wanted to teach. This led her to apply for a cosmetology teaching program right away. She knew she was great at helping other students when they needed it. Trendsetters also recognized this quality and hired her two weeks after graduating from the Cosmetology Teacher's program. After obtaining another 1,000 hours of professional work, Ms. Courtney passed her teacher instructor exams and has been a licensed cosmetology instructor since then.
While at Trendsetters, Ms. Courtney taught theory and was most interested in haircutting. This transformed her into their haircutting specialist, working with students to expand their knowledge and develop their talents for haircutting. She has attended different cutting specialist trainings for this subject.
Ms. Courtney says her favorite part of being an Instructor, is "helping the students to learn and grow." She says it is a "great feeling watching their eyes light up when it "clicks" in their head." Ms. Courtney has had a multitude of experiences in the field by working in a salon and helping to open a new salon.
After many years at Paul Mitchell, Ms. Courtney made the decision to take her career to Kankakee Area Career Center. She believes in the concept of students starting their cosmetology training in high school to get a head-start in their career and says she loves to help her fellow Cosmo team
Ms Courtney is currently a part-time instructor, working towards making this her full time career. Along with being a mom and working part-time, she just finished her Associates Degree and is at the mid-point of earning her Bachelor's Degree..