Fallen Firefighters' Memorial
---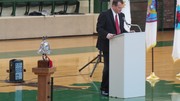 Jim Rowe, Kankakee County State's Attorney
---
A Day of Remembrance
On October 5, 2018, Kankakee County States Attorney Jim Rowe hosted a Fallen Firefighters Memorial. Scheduled to be held on the courthouse lawn at the Firefighter Memorial Wall, the event was moved indoors due to inclement weather. KACC Fire-Rescue-EMS Instructor, Ed Leeson, took students to witness the memorial program.
---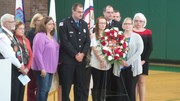 Family Members of Fallen Firefighters
---
The ceremony honored eight area firefighters who have lost their lives in the line of duty. Two of those firefighters (Bruce Spaulding and Matthew Hubly) were instructors here at KACC.
The memorial program included: prayers, speeches, reciting the Pledge of Allegiance, singing of the National Anthem, a bugler playing Taps, bagpipers playing Amazing Grace, presentation of a memorial wreath and roses to family members of those being remembered
---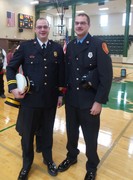 Aaron and Noah Hubly, sons of fallen firefighter, Chief Matthew Hubly. Not only was Chief Hubly with the Kankakee Township Fire Protection District, he served as a Fire-Safety Instructor here at KACC.
---
.
There was also the traditional and somber ringing of the fire bell signaling firefighters are "returning home." Several of the KACC students commented on how moving and emotional the memorial service was.
Thank you Jim Rowe, Danielle Dugan and area fire districts for hosting a thought provoking service. To look at todays program, click on this link: Kankakee County Fallen Firefighter Memorial Service