Illinois Army National Guard teams up with KACC Law Enforcement Program
---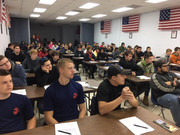 Career Center Students at IL Army National Guard Training Grounds in Marsailles, Illinois
---
Illinois National Guard once again welcomed Kankakee Area Career Center students to their training grounds in Marseilles.
Students received a full day of educational training, both in the classroom setting and on the grounds of their wonderful facility. Students left KACC at 7:00 a.m. and returned back to school at 3:30 p.m. and were kept busy the entire time.
Special thanks to Sgt. Medina and First Sgt. Frazier for sharing their expertise.
"Learned so much from the Guard. Great Training." Magdalena Gaffney, Beecher HS
"Very Great Day." Matt Gonzalez, Beecher HS
"One of the best days of life. Did a lot of things; made a lot of new friends." Jose Cabrera, Beecher HS
"Awesome Time." Jake, Manteno HS
"Very Fun - A lot of Competition." Jesse, St. Anne HS