Prepare for Tomorrow at KACC
College - Trades - Military
KACC's Mission of Preparing Students for Tomorrow can only be fulfilled by working with teachers, students, parents and others within both industry and education communities.
On March 1st, eight organizations came to KACC to speak with our students about the vast array of options and opportunities available to them upon graduating high school and KACC.
---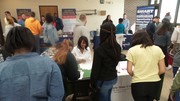 Click on picture to open gallery
---
Every student in attendance was allowed an opportunity to speak with and gather information from our guest attendees.
---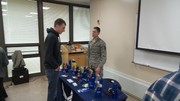 Click on picture to open gallery
---
Sincere thanks to the following people who came to spend the day with our students:
IBEW Electrical Workers Local Union 176 was represented by Deric Wilkins, Assistant Business manager and Bryant Winkels, Instructor, Joint Apprenticeship & Training and Mason Power, a first-year apprentice.

Kankakee Community College was represented by Michelle Argento, Coordinator of Recruitment Services

Lincoln Tech, represented by Steve Poynter, Admissions Representative

Ohio Technical College was represented by John Austin, College Admissions Representative

Prairie State College, represented by Tracy Jones, Academic Advisor - Career and Technical education

SMART - International Association of Sheet Metal, Air, Rail and Transportation Workers Local Union 265, Represented by Louise Medina, Work Force Development and Kevin Galass, Business Representative

United States Air Force, represented by Technical Sergeant William Chavanu, Enlisted Accessions Recruiter

Universal Technical Institute was represented by Glenn Whalen, Admissions Representative
Students and Attendees all agreed it was a great day....worth repeating.
"Education is the passport to the future, for tomorrow belongs to those who prepare for it today." Malcom X