Michael Spangler
---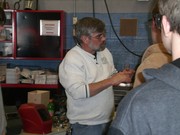 Mr. Spangler showing how things get done in his classroom.
---
Lots of Books, But No Desks In This Classroom!
Of course many of the classrooms at KACC contain lots of equipment utilized in preparing students to work in their various fields. This is especially true for the welding and automotive classes so they can keep up with the technology in their respective fields.
As far as Mr. Spangler, is concerned, he believes this provides a great opportunity for the students to really get their hands dirty and work with the same technology they can expect on the job. All hands-on activities only occur after a student has finished working on all paperwork following
lectures and other paperwork assigned in class.
Mr. Spangler has been the welding teacher for quite a while now and says he still "Loves his job." While working for another local company, Mr. Spangler began working part time with KACC. As his program grew and he was eventually needed full time, Mr. Spangler had to make a choice.
He fondly remembers the choice being a "no-brainer" since he really enjoyed sharing his expertise and teaching others to enter a field which he had enjoyed.
As is the case in other classes utilizing various tools, welding class can be very dangerous. From explosions, burns, and arc flashes, every student must remember where they stand and what safety precautions they need to be taking while working in the classroom. There are no desks here! This is but one life-lesson Mr Spangler wants to share with his students ~ They absolutely must be responsible for their actions for safety's sake. Mr. Spangler also works with the students to break any lazy habits and enforce the need to get projects complete and on time. These are important skills in todays workforce, whether you're welding or not!.
---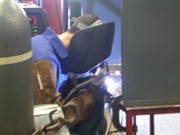 Always taking every precation necessary, a student begins to weld.
---
Those students who work hard, pay attention and show themselves to be responsible can make a fantastic career in welding. Mr. Spangler has many, many successful alumni from his years of teaching. Some examples are former student, Alex Blanchette, who is now working as an underwater welder, and Shea Marquis, who makes an excellent living as a boilermaker at a nuclear power plant.
Mr. Spangler has also seensuccess with female students like Justine Miller from BBCHS as well. Justine is employed by Caterpillar and is actively engaged in a wonderful career as a welder. Even though this is a bit non-traditional, Mr. Spangler states "Oftentimes a woman's fine-motor skills and attention to detail lend themselves well to being successful in a welding career." The employment outlook, whether male or female is excellent as their is a big need for professional craftsmen in this field.
Mr. Spangler's students have also been able to be a bit artistic over the years while working on a large globe to be located in the front of the KACC building. The globe is a compilation of talented students dating back from 1996. Each continent and every island has been hand-crafted by a student. Unveiling of the globe should be within the next year, just as soon as it is all painted and reassembled.
For me personally, being in Mr. Spangler's classroom,if only for a short while, was very inspiring to see all the creativity Mr. Spangler brings to teaching his students. In turn, his students are able to learn the techniques properly to create their own masterpiece.