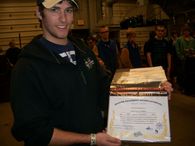 Andy Giblin, former KACC Student from Peotone HS shared his updated Portfolio with current students. He's added all his certifications and awards earned since graduation.
Informational Packet Included
The portfolio is a great way to store and display a variety of information about you, your skills, abilities and what you do best! Not only is this a great way to demonstrate your work-related training gained here at the Kankakee Area Career Center (KACC), you can also communicate your work, extra-curricular and volunteer experiences as well as any special accomplishments and awards you have received. The development of your . . . read more
1
What do I need for school!
Access the 2014-2015 supply list by simply clicking the link below. You can will have all the information you need to double check what tools and supplies are required for your class at the Kankakee Area Career Center. Course Supply List read more

Especially for Seniors
Where DO we go from here? Kankakee Area Career Center (KACC) contnues efforts to ensure our students have ample opportunity to be exposed to a variety of post-secondary educational opportunities. The program is designed to help them answer that age-old question of where do I go from here. KACC has reached out to . . . read more