Adult Cosmetology Program Available
---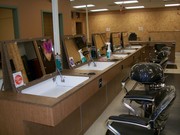 KACC School of Cosmetology offers a full-service Salon - Featured here are individual workstations
---
Time to Join In and Start Your Career
The KACC School of Cosmetology is a fully licensed program through the Illinois Department of Professional Regulation. KACC's program provides the 1500 hours of required training - both in the classroom and in our full-service salon - prior to taking the State Board Exam for licensing.
The $9,000 Tuition for this program allows students the opportunity to acquire all the skills needed to work with customers. Student Kits and fingerprint background check fees are also included at no additional cost. A $100 deposit secures your place!
Former KACC Cosmetology students who did not finish the program, may also return to complete their 1,500 hours if it falls within a certain timeframe. Questions may be directed to Tonya Born at 815-939-4971 or via email at bornt@kacc4083.net.
Program complies with all the rules and regulations of the Illinois Beauty Culture Act.
Feel free to click on the helpful informational links below:
General Enrollment Information
Kankakee Area Career Center offers career and technical education opportunities without regard to age, color, race, national origin, sex, religion or handicap. Additional information regarding this policy can be obtained by contacting the Center.