Thank You!
---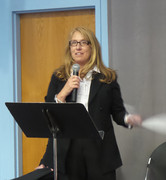 Principal, Bosa Goodale, during the 2017 Student Recognition Ceremony
---
Appreciate the years.
It was July, 2004 - my first day working with the Kankakee Area Career Center (KACC) and Kankakee Area Regional Vocational Education System (KARVES). I'm not sure where all the years went, but I am sure of one thing: I have had the pleasure to know and work with many fine young students, parents, business partners, faculty and staff here at KACC/KARVES.
As I enter my last few weeks of work here at KACC - I just wanted to say thank you to all who made this chapter in my life a good one. For the most part, I take lots of memories, experience and knowledge gained along the way.
My efforts in the realm of Career and Technical Education will continue at the WLCO Area Career Center in Romeoville. There, I will continue my efforts to ensure students have access to exceptional opportunities in Career and Technical Education.
So, thanks to everyone with whom I have met along the way. I appreciate whatever you brought to the table of education - large or small - because it really does take great teamwork from the families, schools, business community and staff to help students see their way clear to a bright and successful future.
And of course, congratulations to Tim Guerin, who will be joining KACC on July 1st as the new Principal. I wish him and the entire staff a wonderful year.
Thanks again.
Bosa K. Goodale
Principal