You Go Girl!
---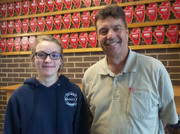 Amelia Cadle visiting Mr. Ed Leeson, her former instructor.
---
Amelia Cadle - On Track to a Great Future
Amelia Cadle had a few minutes in her busy schedule last week and chose to spend that time visiting Mr. Leeson and the Kankakee Area Career Center.
"it's so rewarding," said Mr. Leeson, "to have former students return to let me know how things are going for them since graduation.
Amelia's update left many of us here all out of breath just thinking about what she is doing.
Amelia is currently a probationary firefighter on Limestone Township Fire Protection District. In February, she started Basic Operations Firefighter academy and graduated from this program as salutatorian of the Limestone-Dwight-Salina Class of 2017. Amelia says her love for the fire service as "grown immensely" during the past couple of years.
Amelia also started her EMT training program in August. She also enrolled and is attending classes at Kankakee Community College with a focus in Criminal Justice. After she earns her Bachelor's Degree in Criminal Justice, her next goal is to become a Fire Marshall.
When asked what her future might hold, she said she wants to continue her studies in the area emergency medical field and get her paramedic license.
This young woman is a thinking and planner. She works hard to ensure she is being educated in the areas specific to giving her the most opportunity to reach her goals.
Amelia said "When I turn wq, I want to have a full-time job as a Firefighter/Paramedic, and then quoted Diana Scharf: "Dreams are just goals with deadlines."
Mr. Leeson and all of us at KACC look forward to watching Amelia Go!