Have You Ever Used a Fire Extinguisher?
---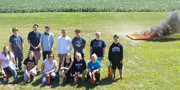 Second section of students from BBCHS, Central, Kankakee and Herscher
---
Probably Not
Thanks to our Instructor Ed Leeson and Liberty Fire Equipment, the KACC Fire-Rescue-EMS program kicked-off the week receiving exposure to real fire and real extinguishers.
Students were taught how to identify, select, and use various types of fire extinguishers. Variety is important. Different types of fire extinguishers are used to extinguish the assortment of fires (Class A, B, C, D, & K) which may occur.
---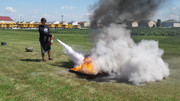 Brock Solomon, Central HS
---
They learned about the varied extinguishing agents in the portable extinguishers (water, dry chemical, foam, carbon dioxide). Having a good knowledge base of how extinguish agents are expelled from the extinguishers (hand-pump, compressed air, carbon dioxide cartridge) along with how to operate the extinguishers is an important first step to develop basic awareness. The curriculum begin to grow and develop quickly and include the EMS certification this year.
So, while using an extinguisher: Pull the pin, aim at the base of the fire, squeeze the handle, sweep the nozzle back and forth, may seem like a small step, KACC Fire-Rescue-EMS students will learn plenty and get a wide variety of fire and smoke exposure throughout the year.
---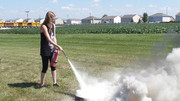 Kelsey Puffer, Herscher
---
Keep looking for updates on our class - you may well be amazed!