Annie Murphy Receives Golden Apple Award!
KACC Student from Manteno High School
Some students just have the knack for going the extra mile. When this happens, we want to share their stories.
One example is Annie Murphy, former KACC Child Development/Early Childhood Education students from Manteno High School. Like so many examples of the success our students continue to obtain when they finish a program here at KACC, Annie's needs to be shared.
---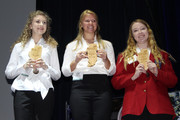 Annie (far right) receiving her Bronze Award at Illinois State SkillsUSA Competition. Annie Competed as a KACC Student this past Spring.
---
Annie spent two years in Child Development learning to prepare lesson plans and put them into action in our ECE Lab designed to mirror a preschool full of active 3 to 5 year-olds. Annie said she is "Lucky to have had this opportunity. The Career Center" she continued, "prepared me so much for not only college, but my future." Annie wrote about how she learned to "soft skills" which any employer will tell you, are sought after with zeal!. She believes the skill sets learned at KACC will take "me wherever I go in life."
While at KACC, Annie says she formed incredible relationships with instructors Leighter and Norton. The Career Center, she remarked, "gave me real-life experiences I wouldn't have gotten otherwise at my high school, like teaching in the preschool." (ECE Lab)
---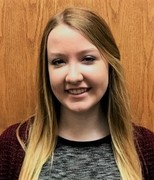 Annie earned a ,000 award from KACC Spaulding-Lawrence Scholarship program and was Student of the Year for Child Development.
---
In a letter Annie wrote: "I am now proud to say that this summer, I became a Golden Apple Scholar. Golden Apple is a foundation that helps create new teachers who are excited about what they do and helps place them in "in-need" schools throughout Illinois. With this scholarship, I will not only receive financial support throughout college, but also have the opportunity to be a part of four summer internships - one after each year of college. These internships will allow me to gain more experience and learn from the best of the best. I couldn't have gotten this far without KACC. I felt confident walking into my Golden Apple interview because I knew I had all of this experience under my belt from KACC. I am forever grateful and will never forget what the Career Center has taught me."
All the best Annie Murphy!