Professional Day with Peddinghaus
---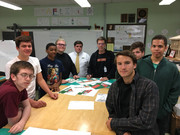 L to R: Christian Bisping, KHS; Austin Szcepanski, BMac; Trevon Barnes, KHS; Xaviier Powers BBCHS; Xavier Neblock BMac; Mr. Keigh Wilkey, Peddinghaus Corporation; Alex Johnson and Jake Nicholson, BBCHS ; and, Xavier Menard, KHS
---
Once again, Peddinghaus Corporation shared a wealth of knowledge with our Drafting + 3D Design students.
Peddinghaus, specializes in machining processes and assemblies for steel construction, plate fabrication and metalworking industries. Oftentimes, a drafting and design type class is limited to architecture - KACC is not - both mechanical and architectural components are embedded into our curriculum.
Keith Wilkey came to KACC to speak with the students who attend our afternoon session. He spoke with them about the various applications of his training which he received at Morrison Tech in the Engineering Technology division.
Mr. Wilkey spoke about the importance of geometric construction, understanding drawings and their relationships to fabrication. He also talked about how he built upon his training for Morrison Tech 20 years ago. We can never stop learning!
Mr. Wilkey's story was a great example of starting with good training and professional application. Mr. Wilkey was keenly aware of the need for additional training along his career path. Ultimately, the additional training supplemented his foundation of knowledge allowing him many opportunities throughout a wonderful career.