Entrepreneurial Spirit in Action
---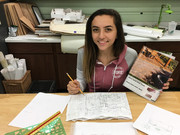 Myah Gifford, Drafting +3D Design Student with her design sketches and materials magazine.
---
KACC Drafting + 3D Design student, Myah Gifford has acted upon her entrepreneurial spirit by helping a family design a new patio for their home.
Myah is very interested in becoming an architect. For now, she is doing a patio design for family in Herscher, who she has met with twice. Being a smart person with a team spirit, Myah has reached out to her drafting instructor, Stephen Kelley, in addition to KACC's construction technology instructors, Jeff Umphrey and Doug Enz.
Not only is Myah doing the design, she is also working on cost-estimating for materials needed to complete the project.
Such a great example of real-world application of the curriculum taught at KACC - always Preparing Students for Tomorrow.