CSL Behring Teams up with KACC Cosmetology Program for a Great Cause
$7,000 Raised for St. Baldricks!
Thanks to CSL Behring', Melissa Tanner and all the fine folks at CSL Behring for once again sponsoring a wonderful St. Baldrick's event and inviting the KACC Adult Cosmetology Program to participate. KACC Adult Cosmetology Program students and their cosmetology instructors, Tonya Born and Michelle McWilliams were thrilled to be a part of this annual fundraiser.
According to Ms. Tanner, Ms. Born, Ms. McWilliams and their students provided mini manicures, colored green streaks in hair as well as shaving the heads and beards of eight of their staff members.
There were even two women who took the challenge and shaved their heads in support of this cause. Melissa stated "It was a very emotional experience for everyone in the room.....filled to capacity with volunteers and supporters" who watched as hair fell to the floor.
---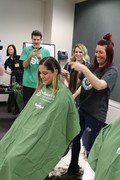 KACC Student Shaving hear of CSL Behring staff member for St. Baldrick's fundraiser
---
Ms. Born, lead instructor of the Adult Program, agreed with Ms. Tanner in saying her students had a lot of fun with the CSL Behring staff. "My students felt really proud to be having the opportunity to give back in a meaningful way. The $7,000 raised by CSL Behring's fabulous staff is pretty darn cool!
KACC sure appreciates the support and partnerships with CSL Behring. Thanks Melissa Tanner.