Nice Note from Ethan
---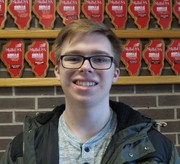 Ethan Fritz
---
Kankakee Area Career Center received a lovely note of thanks from Ethan Fritz, 2018 Graduate from KACC's Computer Technology program and Central High School. It's always nice to get an old-fashion thank you note in the mail. We though we would share his sentiments.
To the Kankakee Area Career Center,
Thank you for bestowing upon me your trust with your generous gift to me through a scholarship. It means a lot to me and my family to be given your trust and consideration. I'm glad I chose to come to the Career Center for the last two years of my high school career. It was educational and a very good experience overall.
I am currently registered and enrolled at the Kankakee Community College for the fall semester and will be continuing to receive my Associate's Degree in Engineering Science in 2020.
Sincerely,
Ethan Fritz
All of us at KACC are glad Ethan has put his KACC Scholarship Award to good use! All the best Ethan!