As Always, Our Thanks
---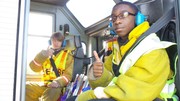 These two Fire-Rescue-EMS Students acknowledge a great class.
---
Firefighter-Paramedic David Porter and the Bourbonnais Township Fire Protection District
During the first few weeks of class, the KACC Fire/Rescue/EMS students have been studying firefighter safety. Because vehicle related accidents are the second-leading cause of firefighter fatalities, the Bourbonnais Fire Protection District provided an apparatus in order to help simulate the placement of blocking equipment during emergency operations in traffic.
Thanks to their assistance, students were able to complete several practical safety-related skill drills including: mounting and dismounting the apparatus, wearing seat belts, chocking (wedging) tires, working while wearing hearing protection, and proper placement of traffic cones at the scene of an accident.
BFPD FF/PM David Porter helped instruct the students and offered them excellent advice throughout to help them improve their skills.