Thanks Alyssa Linnell
---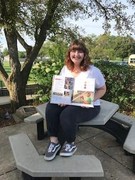 Alyssa Linnell - KACC & BBCHS 2018 Alumn
---
#TogetheratKACC
Alyssa Linnell graduated from Bradley-Bourbonnais Community High School and KACC;s Cosmetology Program in 2018.
Alyssa's talent and style was not only evident within the Cosmetology Program, it was exhibited in her work with BBCHS Yearbook Committee. This past school year, Alyssa did a two-page spread about KACC. She utlized our "hashtag" motto we use for all of our social media - #TogetherAtKACC.
This talented young woman did a phenomenal job highlighting the wide range of opportunities at the Career Center. Alyssa not only showed KACC in pictures - which are fantastic - she demonstrated her talents in written word. Alyssa highlighted several BBCHS students and KACC courses in the two-page spread.
Whether or not you, your child, relative or anyone else you know who attended BBCHS, Alyssa's work should be viewed and her talents appreciated.
Thanks Alyssa for putting the spotlight on KACC.