Manufacturing with the Patients in Mind
Educational leaders from throughout Kankakee County attended an informational meeting and tour of CSL Behring on Tuesday, December 3rd.
Tim Guerin, KACC's Principal worked together with Maureen Powell, Head of Communications and Lana Lyday, Learning and Development Specialist, to create a meaningful morning for Superintendents, Principals and Curriculum Development staff from area school districts.
According to Mr. Guerin, "Local educational leaders want and need to know about the potential for upcoming careers and the skill sets our employers are looking for to fill their needs. As curriculum is developed at area schools, the planned growth and expansion of CSL and their employment needs can be taken into consideration."
The physical plant, buildings and product lines are incredibly cool, modern and welcoming. Being on site made learning more about CSL's growth and human resource needs an exciting topic to take back to the schools and share with students. There are countless employment opportunities right here, locally.
"Kankakee River Valley is a great place to live, work and raise a family," stated Matt Kelley, KACC Executive Director. "Whether a high school graduate leaves town to go to college, stays close to home for community college/apprenticeship or, on-the-job-training, CSL will be a viable option for a fine career."
Chris Abel, CSL's Head of Project Management shared information on the planned growth, in yearly stages, with everyone present. What we will see transform over the next 3-10 years is going to be amazing. Mr. Able commented how important it is to meet with educators because those in high school today are "the ones who CSL will need to fill these jobs in the future."
---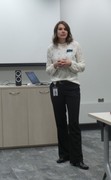 Jackie Hawkins
---
Jackie Hawkins, Human Resources Director went into detail about the types of available jobs as CSL continues to expand, as well as the variety of educational and skill levels required to fill those jobs. Whether it is a job requiring biochemical engineering, chemistry major or industrial maintenance, the need for new staff members at CSL will run the gamut.
---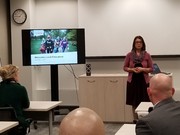 Lana Lyday
---
Wrapping up a very informational meeting was Ryan Cox, Strategic Improvements Lead, API, Manufacturing. Ryan took everyone on a walking tour of a full product line. The operational aspect of the facility, including the technology and automation was amazing to everyone on the tour.
While it might be easy to look at CSL as a manufacturing plant, it is so much more. Having spent the morning there listening to the care and concern every member of the team had for their patients who receive the necessary medications they produce, made it very clear – this is a patient-centered corporation. The day can best be described as both as an incredible glimpse into their future and a heartwarming event, all at the same time.