Students of the Second Quarter
---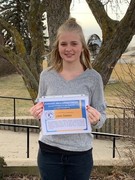 Claire Tammen
---
Congratulations!
Congratulations to those students who received the honor of 2019 Students of the Second Quarter!
Students are chosen by their instructor for being exemplary students - academically, hands-on skill development and soft-skills demonstrated day in and day out of class. These students are no eligible to for the Student of the Year awards announced in May and an opportunity to earn a scholarship.
Click on the link below to see who was chosen this quarter.