Welcome Ms. Conway!
---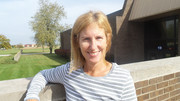 Dawn Conway Learning Center Tutor
---
The Learning Center Team is excited to announce its newest member, Dawn Conway.
Dawn Conway joined the Learning Center as a tutor, where students can get some extra help refining and improving reading and math skills.
Ms. Conway holds a degree in Chemical Engineering from Northwestern University. Not only has she worked in industry, she has also been a small business owner.
Ms. Conway most recently taught math at Kankakee Community College, where she enjoyed being a part of her students' success and progress.
Ms. Conway says she "Looks forward to continuing to help students at the Career Center. It is wonderful to work with students on their math and reading, especially since the curriculum is designed to be directly related to the students' individual courses of study and certainly applicable in the real world of work.
The Learning Center Tutors and KACC Administration know the addition of Ms. Conway will help fulfill our motto of "Preparing Students for Tomorrow."