Nancy Ryan - KACC Learning Center Tutor
Nancy Ryan has been a member of the Career Center family since 1999. Ms. Ryan has a true love for teaching started when she came to KACC, taking a position of Perkin's Grant Tutor through Kankakee Area Regional Vocational Education System.
Ms. Ryan tutored students in both reading and mathematics as it related to their specific CTE area in which they were studying. Based on pre and posttest results of these students, Ms. Ryan knows how to be an effective tutor as her students made remarkable progress.
When Ms. Ryan started tutoring, she had an undergraduate degree but it was not in education. She said she "Wanted to better serve my students better, so I returned to school, taking evening classes at St. Xavier University in Chicago. My goal was to attain my teaching license and a master's degree in secondary education. She completed her student teaching at Crete Monee High School in 2007.
In order to complete her student teaching, Ms. Ryan left the Career Center for one year. She returned to KACC in 2008, all the while continuing in her education at Governor State University to earn a Master of Arts degree in reading. Presently, Ms. Ryan is a reading specialist with an LBS1 endorsement and taught developmental reading at Kankakee Community College three years ago.
Ms. Ryan says, "Teaching is very fulling. I truly enjoy working with high school students and young adults as they prepare for their careers." Ms. Ryan continues to provide tutoring and other student support services at KACC as well as being on for a substitute teaching assignment. She is very knowledgeable, flexible and seems to be "at the ready" for whatever anyone needs here at KACC on any given day.
---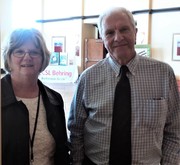 Nancy Ryan with Mike DeBetta - These two have been a great team for years!
---
Ms. Ryan says that it is a pleasure to teach at the Kankakee Area Career Center and share my talents with the staff and student body. "It's always a thrill to meet former students in the community" she says, "and find out that my support aided them in reaching their educational and career goals." She says she hopes her "commitment to lifelong learning" is a good example for her students. We firmly believe it is!
Nancy and her husband, Gene, have seven adult children and ten grandchildren under the age of twelve.